At What Age Can You Start Invisalign Treatment?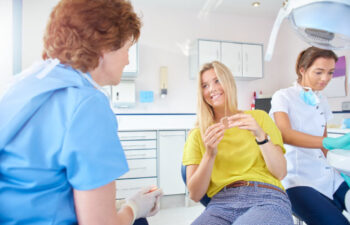 Many pre-teen and teenage patients require orthodontic treatment to correct bite issues, alignment issues, spacing issues, and straighten crooked teeth. But some of them don't want to deal with traditional metal braces and desire a more discreet look.
Invisalign clear aligner therapy is a popular option for those who want to straighten their teeth without metal braces. One of the most common questions we receive at Curtis Family Dentistry is: What is the best age to start Invisalign treatment?
Let's dive into the answer below.
What Is Invisalign Clear Aligner Therapy?
Invisalign clear aligner therapy is an orthodontic system that uses a series of removable plastic aligners to correct your smile over time. Here's how it works: Every two weeks, the patient will receive a new set of aligners to wear all day, removing them only when brushing their teeth and eating. Unlike metal braces, Invisalign requires no adjustments or wires and the patient does not need to alter their brushing or eating habits during treatment.
Benefits of Invisalign
The biggest benefit of Invisalign is that they're discreet, so no one can tell that you're wearing them! Like metal braces, Invisalign is incredibly effective at correcting mild to moderate orthodontic issues, but it doesn't cover as many issues as traditional metal braces do.
The downside to Invisalign, however, is maintenance. The patient must remember to wear their aligners all day, clean them thoroughly after removing them for meals and brushing, and swap out their aligners every two weeks. For that reason, we only recommend Invisalign therapy for older teens and adults who can stick to the schedule and get the results they want on the expected timeline.
Affordable Orthodontics in Mooresville, NC
If your teen is thinking about Invisalign, contact our office to schedule a consultation! Dr. Curtis will carefully examine their smile to determine if Invisalign is a good fit for their teeth, lifestyle, and your budget. We look forward to your visit!