Combat Tooth Loss with Periodontal Therapy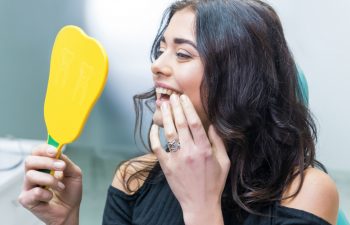 Gum disease doesn't just cause bad breath…it's also the leading cause of tooth loss for our adult patients. Even if you've never had a cavity and brush regularly, you could be at risk of developing periodontal disease.
Symptoms include:
Gums that bleed when you're flossing or brushing
Receding gumlines ("long teeth")
Visible tartar buildup
Problems with food catching between your teeth
Soreness, swelling, or discolored gums
When a Traditional "Cleaning" Isn't Enough
Preventive cleanings are meant to help you maintain your current oral health status and avoid the development of gum disease. Unfortunately, a lapse in care or flossing can allow larger areas of tartar deposits to form. Once this is the case, the gums tend to detach from the teeth and bone loss occurs. At this point, a therapeutic "deep cleaning" (periodontal therapy) is more appropriate. Simply cleaning the visible portions of your teeth isn't enough.
During your periodontal procedure, we clean away the calcified deposits below the gums, so that the tissues can heal and potentially reattach to the tooth. This non-surgical option is the standard of care when it comes to intercepting active gum disease. Left untreated, the condition can spread and possibly result in the need for gum surgery.
Removing disease-causing bacteria isn't just important for your smile, it's also vital to your overall wellness. Active gum disease places a strain on your immune system and can make it more challenging to control other types of health conditions.
If you're exhibiting signs of gum disease or chronic gingivitis, contact our Mooresville dentist today to schedule an exam. Curtis Family Dentistry is currently accepting new patients!
Posted on behalf of Curtis Family Dentistry