Flossing Mistakes to Avoid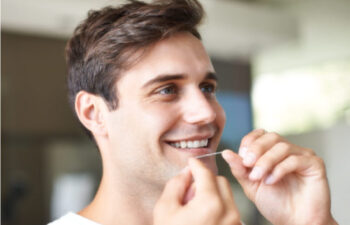 After a long day, it's understandable that you may want to skip over flossing. Yet, it's best to fight the urge since cleaning between your teeth helps remove plaque, the source of cavities and gum disease. Flossing correctly, and avoiding the following flossing mistakes, is in the best interest of your oral health at the end of the day!
Using the Wrong Floss
Did you know there are different types of dental floss? Each floss addresses different smiles. Using the wrong type of floss may not make a difference in removing plaque buildup. Ask our dentist during your cleaning and exam which floss is best for you!
Flossing Gums Instead of Teeth
If you often find your gum line irritated, it may be because you're flossing directly on your gums rather than your teeth. The goal is to aim along the tooth when flossing instead of pulling the floss down onto the gum line.
Forgetting to Clean Under the Gum Line
While your main goal is to floss the edges of the teeth, it's also important to floss under the gum line! It's easy for food particles and debris to build up and cause gum disease. Avoid this by going under the gum line on both sides of each tooth when you floss.
Using the Same Part of the Floss
When you measure your floss, we recommend about half your arm length to give you enough clean floss per section. Using the same floss for each section spreads bacteria from one area to the other, so be sure to use a new part each time!
Not Flossing Enough
The most common flossing mistake is when patients don't floss! The American Dental Association recommends flossing at least once a day. The best time to floss is right before bed!
Comprehensive Dental Care in Mooresville, NC
Flossing and brushing are only part of the picture of a healthy, beautiful smile. The other part is scheduling visits for dental services when needed. At Curtis Family Dentistry, we offer a variety of dental treatments to help patients with any dental needs. Contact our office to schedule your appointment today!